MBBS Abroad Consultant
MBBS Abroad may be a hard-decision. Allow us to help you guide to make reliant choices for a great career outcome.
Career-Voyage has successfully secured admissions to 800+ candidates in overseas universities. Currently we are recruiting for September 2018 intake in various American Universities for MBBS Program.
APPLY NOW!! LIMITED SEATS AVAILABLE
FOR QUERIES/APPOINTMENT/ADMISSIONS CALL +919650347138, +917500794444
ATTRACTIVE SCHOLARSHIPS AVAILABLE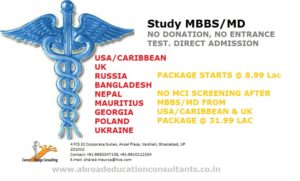 Most of us are aware that MBBS in India is highly expensive, especially those with the provisions of the management quota.Pursuing medical education in abroad is highly cost efficient comparatively. However, there are may doubts and misconceptions amongst people in this regard.
Does the MBBS Abroad Consultants have WHO accreditation? Are courses approved by Medical Council of India? Upon returning to India, is it possible for one to work as a registered medical practitioner in India and the criteria pertaining to it?
World Health Organisation accreditation can easily be confirmed through an internet search or by visiting http://www.wdoms.org/. One can get maximum clarifications by referring MCI website, considering the fact that there are some practical difficulties as well as widespread misconceptions.
The basic eligibility to gain admission for medical education (MBBS) in India, the applicant is required to score minimum 50% marks in Physics, Chemistry and Biology at +2 level. The same eligibility criteria apply to study medicine abroad. The applicant should not be less than 17 years old at the time of seeking admission.
In 2018, MCI has made changes in their eligibility criteria that MCI eligibility certificate will be issued to those candidates only who have qualified NEET exam. So if someone is looking for studying MBBS abroad has to be NEET qualified.
As per latest MCI amendments, any qualified student can study in any country and after gaining a primary education of that country can return back to India and can gain registration after appearing in the mandatory screening test here. (Screening test exemption is only applicable to UK, USA, Canada, Australia and New Zealand)
In short, we have to believe the fact that overseas medical education of highest level can be pursued at low cost and once can return back to India and proudly practice here as a doctor. Training like USMLE, PLAB etc for gaining highest education and jobs in USA etc can also be pursued along with it.
We have few universities which are approved by CAAM-HP. These universities enables you to work in Caribbean and South America immediately after completion of your MBBS program without writing any exam. Its an opportunity for those who are looking for settlement abroad.
Advantages:
1. No donation or capitation fees required
2. All MCI approved universities are government funded meaning the cost of tuition
fees is very low in comparison to Indian private colleges
3. High standard of living at a reasonable cost.
4. There is no entrance test requirement to get the admission and the admission is done only on the basis of 12
PCB marks ranging from 65% onwards
5. World class infrastructure on the campuses.
6. Indian students studying MBBS abroad (in MCI approved
universities)
7. The MBBS abroad degrees issued by the Universities is approved by WHO and many other medical council across the world allowing you to work anywhere.
8. International students giving intercultural experience.
9. Technologically advanced countries enhances your chance of being a better doctor.
10. Huge population gives great opportunity for the medical students to get exposed to large patient inflow in affiliated hospitals and practice high standard of medicine.
MBBS in Nepal
MBBS in Mauritius
We have Jan/Feb intake for MBBS in USA/Caribbean. Don't get disappointed. You can still apply and save your year.