MBBS in Nepal
NEET qualified students can take direct admission in 2017 session. Very limited seats available.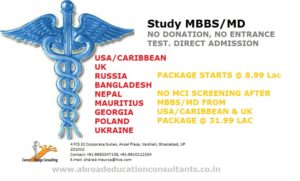 MBBS in Nepal is an excellent opportunity for the Indian students. Nepal MBBS is completely based on the MCI syllabus and the infrastructure of the colleges also meets the requirements of the Medical Council of India
Medical studies in Nepal is similar to Indian syllabus and strictly follow MCI syllabus and Indian Medical books. The duration of the course for pursuing medical in Nepal is same as in India. There are professors and lecturers in Nepal who are from India. Since a long time Indians are studying Medicine in Nepal, especially students from the northern part of India.
Currently, Nepal has 21 medical schools and annual intake capacity of around 2,000 MBBS students.
GOVERNMENT MEDICAL COLLEGES IN NEPAL :
1) Institute of Medicine,Tribhuvan University-Kathmandu.
2) B.P. Koirala Institute of Health Sciences-Dharan.
3) Kathmandu University Medical School Kathmandu ( KUSMS ).
PRIVATE COLLEGES FOR MBBS IN NEPAL:
AFFILIATED TO KATHMANDU UNIVERSITY :
4) Kathmandu Medical college-Kathmandu.
5) Nepalgunj Medical College-Nepalgunj.
6) Nepal Medical College-Kathmandu.
7) Manipal college of Medical Science-Pokhra.
8) College of Medical Sciences-Chitwan.
9) Nobel Medical College-Biratnagar.
10) Lumbini Medical college.
11) Birat Medical College , Biratnagar
12 ) Devdaha Medical College, Rupandehi Admission open
AFFILIATED TO TRIBHUVAN UNIVERSITY:
13) Universal college of Medical sciences-Bhairhawa.
14) National Medical college-Birganj. Admission open
15) Janaki Medical college-janakpur.
16) Gandaki Medical college- Pokhra .
17) KIST Medical College-Kathmandu.
18) Patan Academy of Health Sciences-Lalitpur.
19 ) Chitwan Medical College, Chitwan .
Fees Structure 
Nepal MBBS fees structure varies from 45 Lac to 60 Lac depending upon college to college.
Admissions for MBBS in Nepal
Students are required to take KUMET examination. Its an eligibility exam and if student fails to qualify that exam, admission will be cancelled as per the University norms.
Last date to apply for admission in Nepal is  11 September 2016. Eligibility examination will be held on 24 September 2016.
Contact Now! Limited seats available
Direct admission Nepal MBBS has started for 2016-17 session ,
Contact-for Management/Indian/Foreign Quota in Medical Colleges in NEPAL. No Entrance – No Donation required for MBBS in Nepal for Indian Students.
Career Voyage
+919650347138
4 FCS 32 Corporate Suites, Ansal Plaza, Vaishali, Ghaziabad
Email id: sharad.maurya@live.com